BECAUSE OF TOMORROW
MUSINGS FROM OUR CGO
BLOG POST #1
In every crisis lays a chance – brand communication in times of Corona  
According to Matthias Horx, there are historical moments when the future changes its direction. We call them cross-roads or deep crises. This moment is right now. The world as we know it is disappearing. But after that, there will be a new world, which we can at least imagine. And don't forget: every crisis also offers opportunities. (Source: Matthias Horx, 2020) 
Germany has a long history of very poor communication in crises. Our first instinct is usually: We are paralyzed and stop all current projects, especially in communications and marketing. At first, we think: It won't be that bad, but we still take the precaution of shutting everything down for now. Then we say to ourselves: Let's wait a little longer until we are sure how the situation develops. In the end, we don't want to hear the full truth and even less admit it to others.  
Let's have a look at economic crises such as the banking crisis in 2007: The German head of Goldman Sachs said at the time that banks were not committed to the common good and announced high yield targets shortly after the peak of the crisis to sell. The reputation of most banks has not really recovered from such disasters, as a study by the University of Mainz in 2018 shows. (Source: University of Mainz, 2018) 
The time to communicate is right now. But most brands, especially those that tend to call themselves "Lovebrands", are completely inflexible, if not ignorant. Sure, in uncertain times, the marketing budget is the first thing slashed, and you might also be wondering if it is morally and ethically ok to communicate in the crisis or about the crisis. Well, we believe it is essential. 
We should not be afraid to talk about customers and companies in times of the coronavirus. It may seem superficial and solely economical-oriented to discuss brands, prices, and customer behavior while being confronted with a pandemic. However, the practical reality of global economic trade urges us to market now for the common good. Not communicating is certainly not the solution. 
But what is happening in the market right now?
The change in the media landscape has never been as radical before and is opening completely new target group potentials: 
1. Millions of people increasingly inform themselves by using relevant, credible, channels in linear TV, print, radio, and digital media. 
2. Last week the net reach in German linear TV increased by 4 percent in comparison to the previous year. The viewing time even increased by 5.5 percent. 
3. Young audiences show the highest growth rates with over 30 percent. 
4. Especially n-tv is heavily used as a source of information. The channel has doubled its market share to 2.8 percent among the 14-59-year-olds and is used much more than usual by young viewers. This makes n-tv the leading news brand among information channels. 
(Source: Horizont, 2020) 
As you can see, linear TV is currently more popular than ever, even within target groups we couldn't reach but our own BI also shows a drastic shift in channel preference within the target groups: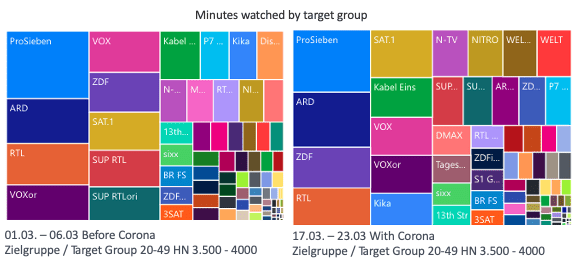 Program Innovations:  
Those we least expected have changed the fastest. In Germany public-service broadcasters have recognized their role in society and taken responsibility. In a matter of minutes, they have adapted their programs and re-established themselves as educational institutions. (Source: Deutschlandfunk, 2020)    
This is how brand communication works in a crisis. But what are the major brands in Germany doing? Who really manages not only to adapt their spots on short notice but also to launch product innovations in a timely manner? 
Two exemplary cases are Sixt and Aldi: Sixt decided to offer free rides for medical staff while Aldi employed the staff of McDonald's in a very unbureaucratic manner to ensure continued payment of their salaries.  
But many of the major brands fail at large: while the following commercial may have brought a smile to our lips a few weeks ago, it now sends a shiver down the spine of even the biggest crisis denier:  
And yet this 6-second ad from 2018, which once topped the YouTube charts, is still being broadcasted on Addressable TV on "Gute Zeiten, schlechte Zeiten". 
But can a brand really change its communication so quickly?
Especially when the marketing budget is the first thing cut in a crisis? You shouldn't just consider it, you must. Because only those who think about tomorrow will emerge from this crisis as winners of the hearts. And, the chances are quite good for brands, because three things are generally valid in every crisis: 
1. People seek trust, truth, and direction.
2. Whitewashing has never worked.
3. And for this crisis it's especially true that: People need attachment.  
If there is a time to follow the ongoing call for "Purpose", the time is now.  
A combination of smart creative and precisely attributed media are the key to success, even with limited resources.
Nobody expects the new production of a prize-winning million-dollar spot – honest communication, close and up to date, with a socially relevant message is the magic word and it's much easier than you might think: A clever combination of existing material, a day of shooting in the studio and a few new visual scenes from a changed world keeps budgets small and impact big. Because let's face it, when did we ever have the chance to shoot empty streets, tourist attractions without people or a completely empty cruise ship? And with the latest technologies, we are able to a) keep our teams virus-free and b) live stream from the set into our clients homes without them having to leave their house – ever. 
Anyone who now reports his TV to Web/App analysis with the usual tools and moving averages will not be able to measure the shift in the new media landscape and the small peaks associated with it. You run the risk of wrong optimization and playing out not ideal creative to the wrong target groups. More advanced approaches in TV attribution, such as wavelet technology, offer enormous potential for improvement here.  
That's why it's necessary to work with an agency that:   
1. can constantly measure new visitor trends on a daily basis, both digitally and on TV, using its own proprietary software
2. is able to carry out continuous open-heart surgery via in-house post-production, to assure that you will never deliver an advertising medium to a target group that is not relevant or, in the worst case, even inappropriate.